Transfer from Luxembourg Airport to Saarbrücken
Book your reliable taxi transfer from Luxembourg Airport to Saarbrücken, Germany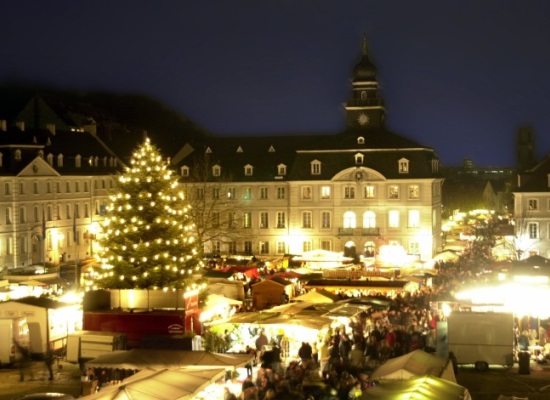 Luxembourg Airport to Saarbrücken
You have just landed in Luxembourg and you are in need of a taxi transfer? Well then, consider our option for a Luxembourg airport taxi as the finest one in town. Our company can offer Luxembourg airport taxis that can give you a ride to your next destination, even if your destination is outside of Luxembourg. One of the taxi transfer routes that we have managed to provide for our customers is the transfer from Luxembourg Airport to Saarbrucken.

Saarbrucken is considered as the centre of the region known as Saar-Lor-Lux. This charming town has population of about 180.000 individuals. Considering the fact that it is near France, you can easily spot the influence that its neighboring country had on the city's architecture and overall aesthetics.

It is a border city well-known throughout historical periods. There is a university located amidst the beautiful deep woods near by the city that will captivate each person who passes by the road. This town has that typical French charm which is rare and unique, even for European cities nowadays. At this point, the city is evolving and growing from a small, mining town in the past to a brand, new European centre for modern research and technology.

If you really want to feel the spirit of the city, you should take a look around and see some of its most glorious architectural pieces. The St. Johann Basilica is one of them. Throughout the years, the basilica has been successfully kept in place and renovated, but it still serves as a well-known Baroque Basilica that was built in the 18th century. This church is also known as the "Basilica Minor".

Alte Brucke is the bridge that connects St. Johann and Alt-Saarbrucken. This bridge is a real symbol of the city. Originally, the bridge consisted of fourteen arches. Nowadays, only eight of those remain. Unfortunately, the bridge has been destroyed during the attacks while WWII. However, it was consequently rebuilt and therefore shortened back in the 60's in the 20th century.

Friedenskirche, also known as "Peace church" was constructed back in 1743 by Stengel. It is one of the most beautiful religious buildings in the area that is nowadays used by old Catholics and Russian and Greek Orthodox society.

There are a lot of major offices and companies located in this area these days that have their own headquarters in this town. In addition to all of this, the city can offer a wide and interesting cultural activities and a rich program containing diverse cultural events and festivals that attract a lot of people from all around the world. Back in 1909, Saarbrucken was a typical baroque city that merged with another nearby town - St. Johann, and the town Malstatt-Burbach. After the merging happened, Saarbrucken was revived to its own glory, so this city proudly celebrated its anniversary of 100 years back in 2009.

If you are looking for the best Luxembourg airport transfer from Luxembourg airport to the charming city of Saarsbrucken, do not hesitate and hire one of our taxis.